SITE: VINERAOTS.COM START
Login Info:
*IP: vineraots.com
*Port: 7171
*Client Version 8.60

EXPERIENCE:

1-50:x999
50-100:x500
101-130:x300
131-150:x250
151-170:x240
171-190:x220
191-200:x100
201-250:x50
251-300:x15
301-350:x10
351-400:x5

SKILLS:

Skills:x50
Magic Level:x30
Loot:x3
Houses:100 lvl +
Protection level :100 lvl +
PZ Lock: 60 sekund
White Skull Time: 5 minuts

FFRAG/SKULL SYSTEM:

* RED SKULL:
* Red skull lenght: 1 day
+ 20 kill in day
+ 400 kill in week
+ 800 kill in month

* BLACK SKULL:
* Black skull lenght: 2 day
+ 20 kill in day
+ 400 kill in week
+ 800 kill in month

MAP:

99% RL map 8.6
Raids 99% RL Map + Standard + Ekstra New Monsters

OKEN, GENGIA, PYRE, RAZAHAI and more!

EVENTS:

QUESTS&TASKS

Events: Zombie, Metin Stone, LMS, Fire Storm, Run, Rush, Guild Wars, Castle War, Snake, Lottery, Bounty Hunters, CTF, DTB, Hunting Room

http://vineraots.com//index.php/p/v/events


Tasks: Rotworm Queen, Dragon, Dragon Lord, Hero, Black Knight, Behemoth, Bog Raider... more on this link: http://vineraots.com//index.php/p/v/tasks

You get prizes for all quests or tasks including those from the donate shop!

SCREENS
What is changed? Here you have:

MAP- Pyre got two new places to exp on the left on map and underground.
MAP- Oken new exp place on the down from Frost Dragon.
MAP - Gengia new exp place on the North of city.
MAP - Gengarus new exp place on the South of city.
MAP - Corrections to Razahai with door problems.
MAP - VIP city got a new spawn with Grim Reaper.
SCRIPT - Correction to RUN Event.
SCRIPT - Removed bug with crash of engine.
Welcome to our Teamspeak3 at: vappus.net
Almost all bugs is removed, and also added a lot of new useful things in the game.

Server address: pokeing.com
Server Port: 7172
Server client: custom taken from web
Server exp: stages
Custom Sprites
Rest you can check if you create a account!

Map similar to the Brazilian Retail


Correct calculation of the active pokeballs in a PokeBag visible in the toolbar PK
Running MOVES, FLY, SURF, RIDE




A highly developed system of ORDER
Number of Pokémon captured in general in the lower left corner
Acting Badges, Pokedex
Additional option MOVES (no commands) used as Pictures
GyM BATTLES!






In addition, point out that on our server, everything is available in the game, only if someone cares much can use the sms shop and subsidize our server in this way!




You can also watch the movie on YouTube:


[video=youtube;kN9lwBF0P98]http://www.youtube.com/watch?v=kN9lwBF0P98[/video]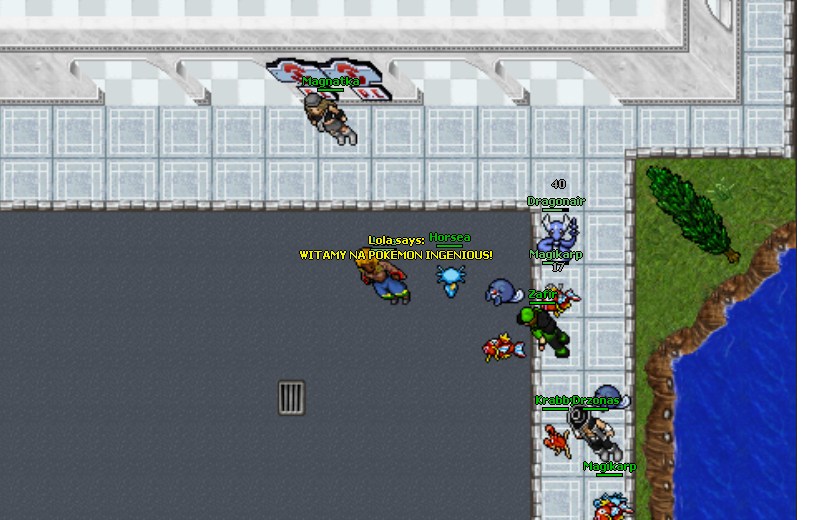 Welcome to the world of Pokémon START YOUR POKEMON ADVENTURE with Ingenious!
OUR BASIC INFO:
SERVER DETAILS
(10.98) FireHell Evolution
* FireHell:
Server-IP 87.98.158.205 or fireots.pl
-Port: 7171
-Wersja Tibii: 10.98
Account maker: FireHell Server-You like it!
* STATY:
Mapa Evolution mocno zmodyfikowana
7 dni w tygodniu 24 godziny online
Domyślna liczba graczy 500
Szybkość Hosta 100MB / s
* RATY:
exp 600 to 45 STAGES
skill-10
mlvl-7
Loot-2
* Silnik TFS 0.4
VIDEOS!


Pózniej dołącze filmik z pvp.
SCREENS!

Guild War, Lotto, Bounty Hunters, Zamek, Aukcje, wszystkie itemy z sms shopa dostępne z questów w grze, ponad 1000 ekspowisk, zbalansowane voc i wiele, wiele innych rzeczy wynikających z wieloletniego prowadzenia serwera!
How to use our forum?
In our forum you can find information about servers and TeamSpeak here is a link to open in a separate window: http://vappus.net/forum

However, if you want to open a forum in the podoknie and still on our site just click on the name of this article.